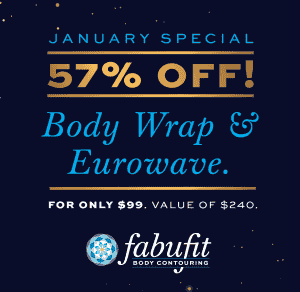 January Special on Eurowave & Bodywraps!
Happy New Year Friends!
Commit to a healthier, more vibrant YOU this year by taking advantage of my BEST deal ever to detoxify and tone, and let's start 2021 off right!
For the month of January, get 1 body wrap & 1 Eurowave session for just $99. Regularly priced at $240, this deal is a whopping 57% off!
What are the benefits of Eurowave & Bodywraps?
Eurowave treatments are effective body contouring treatments that stimulate the lymphatic system and help people lose inches fast while improving the smoothness and vibrancy of the skin. My Bentonite Clay bodywraps help you detoxify your body, reducing inflammation and joint pain.
Call me at (604) 727-6254 to take advantage of this special offer.

All the best,

Alex
Tags: bentonite clay, bodywraps, Eurowave, January Promotion, New Years special, Promotions, specials, vancouver specials