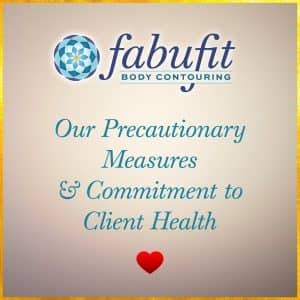 Covid-19 Commitment to Health & Saftey
Dear Valued Clients,
The World Health Organization classified the outbreak of the Coronavirus as a "pandemic".
Here at Fabufit I've been doing a lot behind the scenes to keep my clients safe by preventing the spread of illness.
I take my clients health very seriously and it is important that we all work to keep each other safe. Fabufit's current policy is to observe a 1-degree of separation rule.
What does this mean?
If you have been in contact with someone suspected of carrying the Coronavirus, I ask that you do not come into the clinic until that person has tested negative. We have a high-level of immunosuppressed patients that we need to protect
In case you did not know, here are the main signs and symptoms of Coronavirus:
Cough
Fever
Extreme fatigue
Cough
Body aches
Shortness of breath
Worsening symptoms
If you are experiencing any symptoms of Coronavirus including; fever, cough, or shortness of breath, please return home and call 811 for further details and guidance from a medical professional.
What we are doing in our clinic?
Increasing sanitization from room-to-room and high-touch areas, such as:
Using high-grade sanitization products on all rooms, offices and front-desk areas daily
Sanitizing beds and/or tools after each client
Providing additional sanitization stations for patients at the clinic
Waiving cancellation fees for patients who are ill
The building management has also increased sanitization of common areas such as the lobby, washrooms and staff areas
How you can help:
If you have travelled within the past 14 days to high-risk areas, such as China, France, Germany, Hong Kong, Iran, Italy, Japan, Singapore, South Korea or Spain, please stay home and notify us immediately.
Arrive early and wash your hands prior to entering the office
Call if you are unsure of whether you should come to your appointment
Cancel your appointment if you are have any symptoms described above, or any other cold or flue symptoms.
Avoid touching door knobs with your bare hands and use tissue or sleeves
We ask that you have patience and understanding should schedules need to be adjusted.
Please continue with your appointments and regime that I have set up for you.
Looking forward to the continued success of you treatments.
Warmest regards,
Alex
Tags: covid-19
ROI Web Marketing
ROI Web Marketing is a team of lead generation and conversions specialists providing powerful web marketing services for small businesses in Vancouver, British Columbia and beyond.